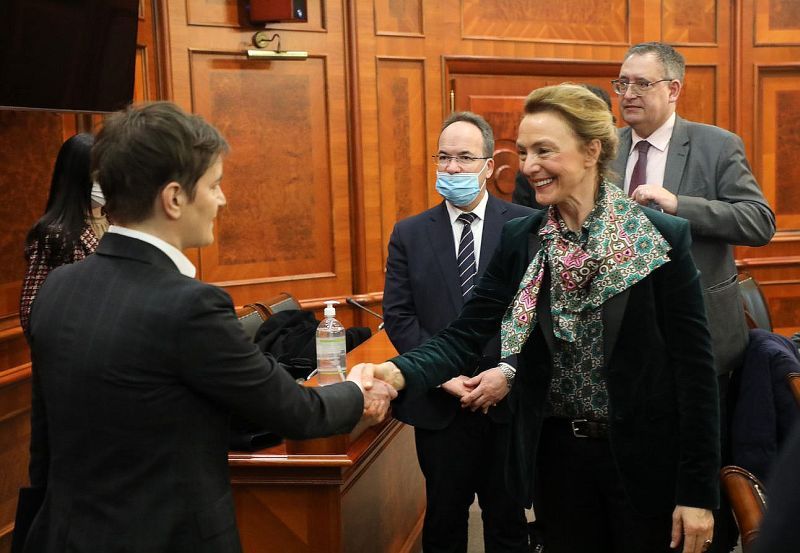 Prime Minister Ana Brnabic said today, in a conversation with Secretary General of the Council of Europe Marija Pejcinovic Buric, that cooperation with this organisation in reform processes is extremely important for Serbia, primarily through support in the field rule of law, democratisation of society and promotion of human rights.
Brnabic pointed out that our country continues to implement reforms within the framework of accession to the European Union in the field of rule of law, judiciary, improvement of media freedoms and electoral conditions.
She emphasised that Serbia will continue with the implementation of judicial changes and that the adoption of legal frameworks for amending the Constitution will follow.
The Prime Minister expressed the expectation that areas such as the rule of law, green transition and continued cooperation with the Venice Commission on the set of judicial reforms will be continued with the same intensity during the term of the next government.
The Secretary General of the Council of Europe congratulated Serbia on the reforms it has achieved in the field of justice, which, as she explained, represents the most important reform step and a key point in the rule of law and the improvement of all segments of society.
She also said that she was satisfied with Serbia's cooperation with GRECO on fulfilling the recommendations.
Brnabic assessed that Serbia has excellent cooperation with the Council of Europe Development Bank in numerous projects – from the BIO4 campus, through loans for dual education projects, student housing projects, combating the consequences of the COVID-19 pandemic, improving health infrastructure and the Regional Housing Programme.
As she stated, Serbia attaches great importance to cooperation with the Council of Europe and the implementation of the organisation's programmes in Serbia, including joint programmes between the Council of Europe and the European Union.
---