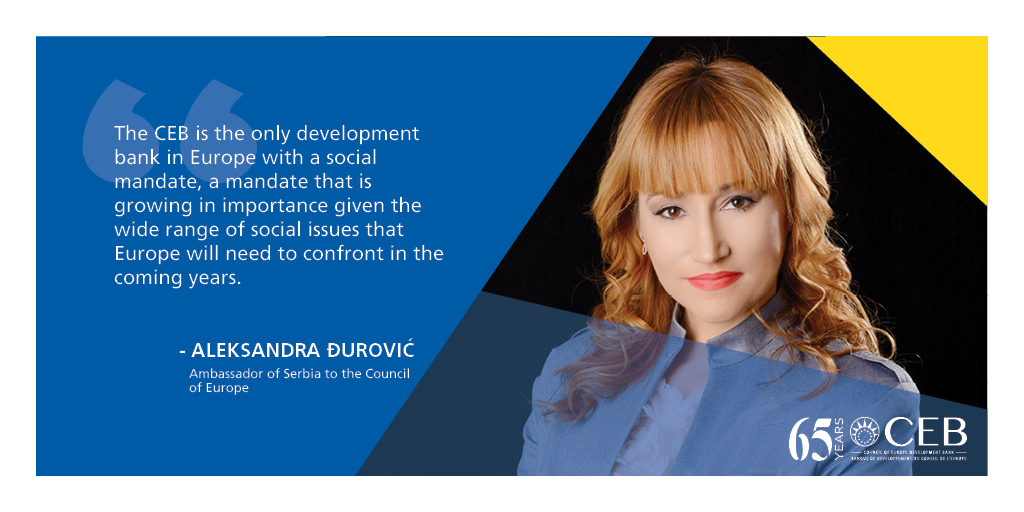 As part of the celebration of the 65th anniversary of the CoE Development Bank, Ambassador Aleksandra Đurović gave an interview in which she emphasized the importance of cooperation between Serbia and the CEB, with which projects in the field of education, health, social protection, environmental protection and energy efficiency are implemented. She pointed out that membership in the CEB provided Serbia with an opportunity to contribute to the Bank's unique social mandate, that makes it a relevant institution for strengthening social cohesion and ensuring a more inclusive and sustainable economy throughout Europe.
Among the projects implemented in the Republic of Serbia in cooperation with the CEB, she presented the project of construction the University Children's Hospital "Tiršova 2" in Belgrade, projects "University Infrastructure" and "Student Housing", whose goals are to improve university education access in Serbia and the project "Water supply and waste water treatment". She underlined the support that the CEB provided to the Regional Housing Program, emphasizing that by the end of January 2021, the RHP had already provided housing to 5 285 most vulnerable refugee families in Serbia.
Regarding the future functioning of the Bank, she stated that its social mandate was becoming increasingly important given the wide range of social issues that Europe would need to confront in the coming years. She noted that it was crucial that the CEB had in mind the consequences of climate change and the adaptation measures in areas such as housing, energy, health, education and employment and that it should strengthen its focus on the long-term integration of vulnerable groups. She pointed out that in the future, the Bank should continue to support Serbia in achieving the goals agreed with the EU in the energy sector, water supply and sanitation and in the waste and environment sector and continue to promote sustainable economic development. She also stated that the activity in the countries belonging to the target group of the CEB should remain a strategic focus for the Bank.
The text of the interview in English and French is available via the links:
https://coebank.org/en/about/65-years/interviews-ambassadors/aleksandra-djurovic-ambassador/
https://coebank.org/fr/about/65-years/interviews-ambassadors/aleksandra-djurovic-ambassador/