7 April 2021 Selakovic in talks with the Director of the Council of Europe Directorate of Democracy @ 8 April 2021 10:52 AM
---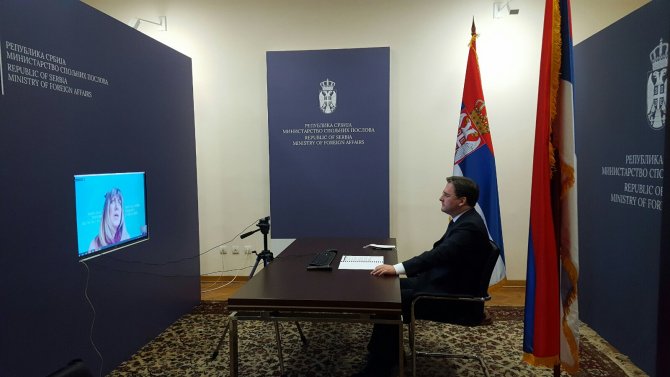 Minister of Foreign Affairs of Serbia Nikola Selakovic talked today via video link with Director General of the Council of Europe's Directorate General of Democracy Snezana Samardzic-Markovic, with whom he exchanged views on the cooperation between Serbia and this organization.
Minister Selakovic informed his collocutor about the process of vaccination against Covid-19 in Serbia, emphasizing that our country, within its positive foreign policy agenda, had created an entirely new atmosphere in regional relations by immunizing citizens from other Western Balkan countries.
The Serbian Foreign Minister emphasized the importance of continuing the good cooperation between Serbia and the Council of Europe Development Bank, which was further strengthened by the recent visit of Governor Rolf Wenzel.
Minister Selakovic also underlined the importance of the Regional Housing Programme for Serbia, bearing in mind that our country continued to face the unresolved issue of refugees, expelled and internally displaced persons from the former SFRY and Kosovo and Metohija.
---
---